Round 7 – Croft
02 - 03 October 2021

The first records of racing at Croft date back to the 1920s, but it was after the Second World War that Croft circuit became a significant motorsport venue.
At the beginning of the Second World War an airfield named RAF Croft was built on the site now occupied by the circuit. RAF Croft also known as Croft Aerodrome, was mainly used as a bomber airfield. It was home to a number of different aircraft types including Wellington, Lancaster, Whitley, Stirling and Halifax bombers.
During the late 1940s and into the 1950s, Darlington & District Motor Club held Motor Race Meetings on various layouts utilising the runways and perimeter roads and then in 1962 Bruce Ropner and fellow enthusiasts bought half the venue at public auction, completing a track on the site in July 1964. The first meeting in August 1964,[2] attracted a crowd of between 30,000 and 50,000 people.
In 1997 the circuit underwent a major transformation – the circuit was extended to 2.127 miles (3.423 km) and new pits, paddock complex, control tower and spectator areas were constructed.
British Touring Cars and British Superbikes soon came to the circuit. British Superbikes remained a regular feature until 2011, while British Touring Cars remain a regular feature on the calendar.
Circuit overview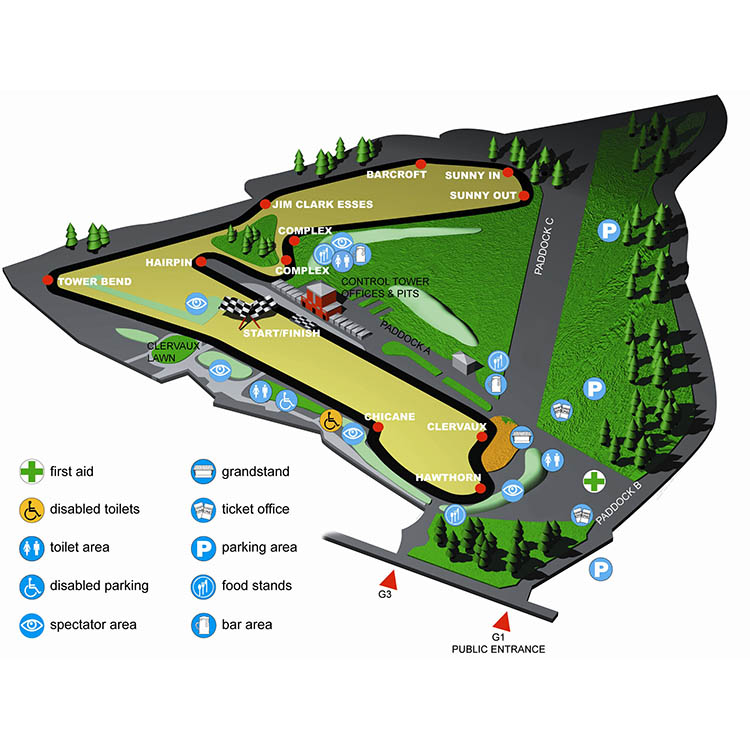 Circuit length

Croft Circuit - 3.41 Km

Pole position

Motorcycles - Left

Sidecars - Left

Cars - Right

Address

Croft Circuit
West Lane
Dalton On Tees
North Yorkshire
DL2 2PL

Club website